Student Activities ~ Commerce Club
---
In order to meet the challenging needs of corporate world environment, it is not just sufficient for a student of commerce to be sound theoretically but must also be exposed to the outer world in a dynamic way to face practical situation. Commerce club was started on 18th November 2006 to enrich and empower the students with academic and technical excellence.
Objectives
To expose students to meet the practical challenges in the current business scenario.
To let the students interact with business experts of industry.
To encourage students to become event managers.
To build self confidence and proactive approach.
Activities of the Club
Business Quiz
Group Discussion
Power point presentations

Guest Lectures
Industrial Visit
Debate
JAM
Competitions to improve not only communication skills but also personality and attitude of students.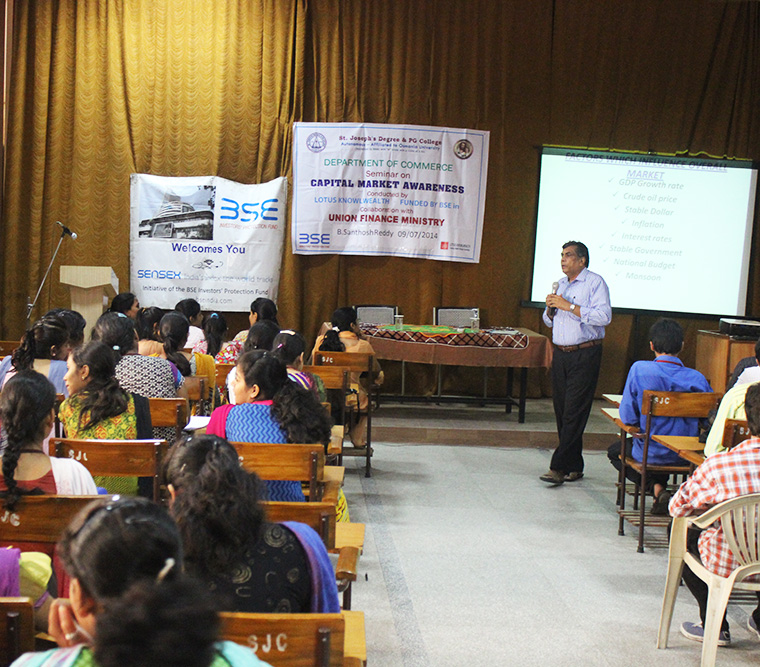 ---
Economic Times Club – ET In Campus
In the year 2010, Department of Commerce initiated ETIC- Economic times in campus in collaboration with Bennett Coleman Co. Limited. The Times group has taken initiative to introduce ETIC exclusively for students.
Objectives
Smart way to reach issues which lie beyond the text book.
To understand and analyse micro and macro issues as they occur in any dynamic market place.
An interactive platform between corporate India and students.
To keep track of the latest business happenings which occur around the globe.
Chance to meet sharpest corporate minds and interact on relevant business issues.
To enable the students meet leading business achievers through panel discussion, seminars and workshops.
It is an interactive platform designed to bring the power of knowledge to the future mangers and has a blend of online and on ground activities, each activity carefully crafted to ensure maximum benefit to the students.
Activities of the Club
Tour to Times of India Press
Case study

Share Baazi
Guest lectures

Business Quiz
Entrepreneurship Development (ED) Cell
---
ED cell is established in collaboration with MSME (Micro Small & Medium Enterprise) with an aim to equip the students with entrepreneurship skills to start and run their own business initiatives.
Objectives
To make students prospective entrepreneurs who is not a job seeker but a job creator.
To be recognized globally and sustain the economic development as well as welfare and progress of the mankind.
---
Business Quiz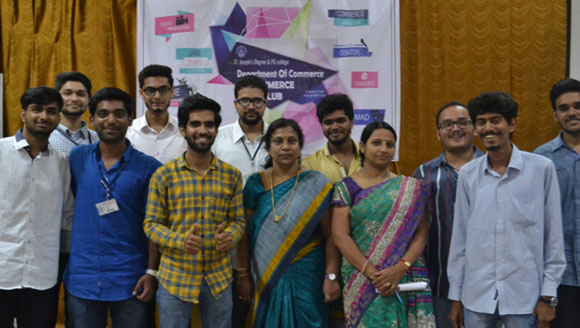 On 19/ 8/ 2016 Commerce Club members of B.com Ist Yearalong with commerce club coordinators Mrs. Sumitra Pujari And Mrs. Sarika Verma Visited (SEBI ) Securities Exchange Board of India, Banjara Hills. 45 students visited for SEBI.
On 17/8/16, commerce club conducted Just A Minute (JAM) in seminar Hall at 2.00pm. 23 members have participated with great enthusiasm. It consisted of 2 rounds where 1st round for "JAM on Talk" and 2nd round was "JAM on Pic" . The Judges for the event were Ms. Shanti, and Ms. Rafat. The winners of the competition are 1st prize- Sarang Bcom IH, 2nd Prize- Murtuza BCom II IT and 3rd Prize- Md. Omer BCom III H.
The commerce club conducted Business quiz on 28/7/16 in seminar Hall at 2.00pm. 38 teams Participated where each team comprising two members. Initially the teams were screened by a preliminary written test. Later there were three rounds comprising oral, audio and visual clippings. The event was organized by Mr. Zakiuddin and his team of B.com III Honors. The Facilitators and judges for the event were Mrs. Sumitra Pujari and Mrs. Sarika Verma. The winners of the competetion are 1st prize- Monish Kalyani (B.com III C) and Shaik Ahmed (B.com III B) 2nd prize- Vaibhav Tolwala (B.com III P) and Uday (B.com III P).
Commerce Club Coordinators:
Mrs. Sumitra Pujari
Mrs. Sarika Verma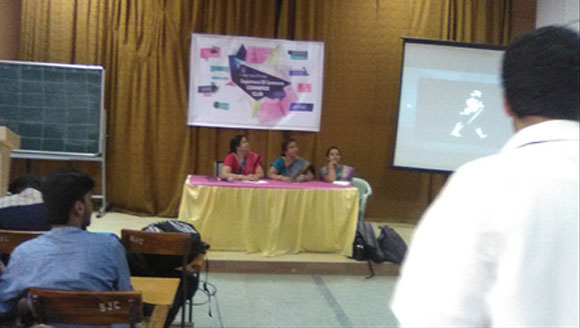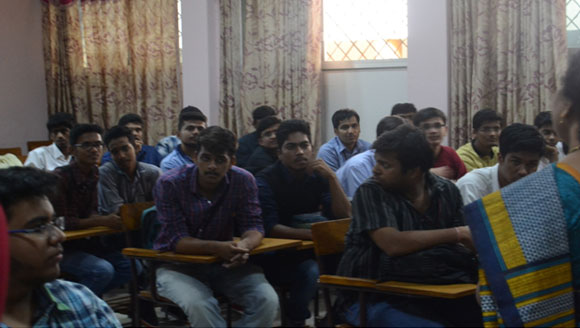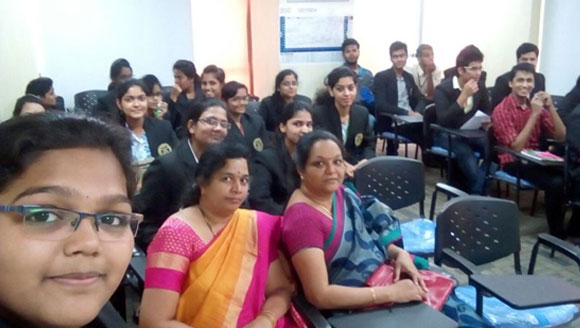 COMMERCE CLUB ACTIVITIES: 2015-16
---
S. No
Date
Name of the Event
Names of the Winners
Prize
1
31st July 2015
Business Quiz
1. Rishab Jain - B.Com II P
  I  
2. Vaibhav Tolwala -B.Com II P
3. Kushal Mahajan – B.Com II D
 
 
 
1. Ritesh Benedict – B.Com III A
  II  
2. Vishal Patel - B.Com III A
3. Vangala Neelkanth – B.Com III C
 
 
 
1. Sharukh Surani – BA (MCJ) III Yr
  III
2. Saurabh Bohra - BA (MCJ) III Yr
2
19th August 2015
Just a Minute (JAM )
1. Zaki Uddin – B.Com II H
I

2. Ritesh Benedict – B.Com III A
    II
---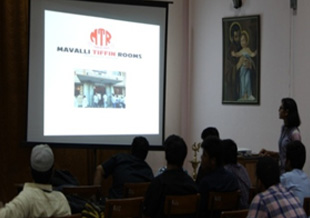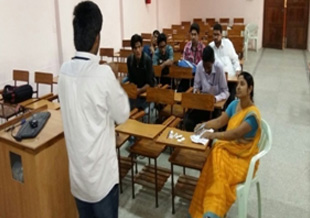 ENTREPRENEURSHIP DEVELOPMENT CELL (ED) ACTIVITIES: 2015-16
---
International Guest Lecture by Mr. Michael Hubbard from South Africa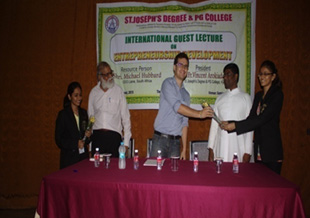 To equip the students with entrepreneurship skills, Entrepreneurship Development Cell organized a guest lecture on 'Entrepreneurship Development' for the registered students on 12th August 2015.The resource person was Mr. Michael Hubbard ,23 years old from Cape town, South Africa, a Tech Entrepreneur, web developer and business analyst. He is the founder and CEO of "Laine", a web development company which focuses on web-based software and also develops mobile and desktop solutions. He has worked with clients in various industries including manufacturing, services and medicine. His latest projects have focused on Medical IT, specifically designing and developing solutions to aid researchers conducting clinical trials capture, manage and analyze their data. He was also Vice President Communications at AIESEC University of Cape Town, focusing on public relations and marketing campaigns during 2013-14. He was a Team Leader at "Africa in Me" which is a global branding campaign for AIESEC in Africa to promote internships in the Africa region during 2012-13. It was co-developed by Mr. Michael at the AIESEC African regional summit in Mozambique. He was an international community development intern, worked as an international Exchange Participant with Courtesy Foundation in Hyderabad, India, through AIESEC where he spent 2 months from December 2011 to January 2012, living with 55 young children in an orphanage in Hyderabad, India. He also has honors and rewards to his credit. He was finalist at International Telecommunication Union, Open innovation Competition in 2011 and was invited to Geneva to present his idea. He was also winner of "Indiafrica Young Visionary Fellowship award" in 2012 for the best health care project in Africa. He works with a development team in India and clients around the globe, always available for projects.
He spoke about the qualities to become a successful entrepreneur. He said that "only you are responsible for what you don't know."Risk is always there in business and if there is no risk then there are no profits. Ups and downs are essential and if there is upside there is always a downside to it and we need to protect the downside. Failure is a difficult decision so to avoid failure take right decision at right time. He said that money is a tool so to make money you need money and hence money should be dealt practically. To start a business, have initial source of investment and then start working on it. He spoke about 'Tough Love', Friendship and Business are two separate things and one must be careful while employing friends. He said that be good at work to convince the clients and presentation matters the most. An entrepreneur should be able to lead his team by interacting with the team members in case of any disputes to avoid failure in business. An entrepreneur should be ready to face when he is wrong, argue the facts and explain why you feel that you are right. He said that there is a need for evolution as market is changing and there's always more than you expected so mentally and financially find solutions to survive. He addressed the students to be the best, passionate about work, act confidently and being an entrepreneur teaches one to be happy and also to learn from the experiences. The session was a real eye opener and had a good impact on the students.
---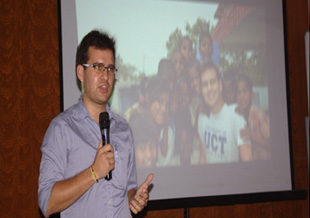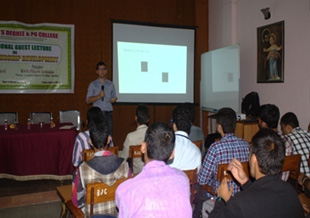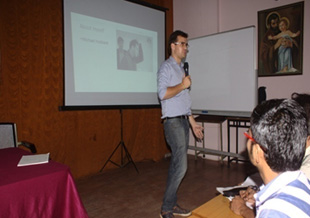 ---
International Guest Lecture by Mr. Michael Hubbard
Bhoj - e - Jashn (Food Festival)
Entrepreneurship Development Cell for the first time organized Food Festival on 20th January 2016.The festival was titled as "Bhoj-e-Jashn" and was organized with a motive to explore Entrepreneurial skills like planning, marketing and managing business among the students .The festival was inaugurated by Principal Rev.Fr.Vincent Arokiadas at 12.00 noon, along with Director, Dr.Bharathi, ED Cell Convenor , Mrs.J.N.P.P. Anantha Lakshmi and Co-ordinators, Mrs.Savitha, Mrs.Sunitha and Mrs.Sangeetha Thakur.
Mr.Shaik Ahmed of B.Com II year highlighted the importance of Entrepreneurship and the need for developing Entrepreneurship skills in the business. Participants have put up 18 stalls with different varieties of food and one entertainment game stall. The participants have made good sales and there was overwhelming response from both students and faculty. The festival has given a practical experience to the students which will help them in developing their skills and talent. Feed back was also collected from the participants and ED Cell members.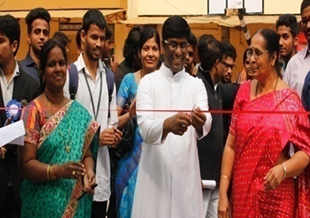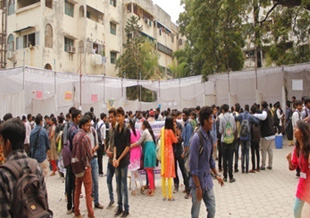 International Guest Lecture by Dr. M. Krishna Erramili from USA
Entrepreneurship Development Cell organized a guest lecture for the registered students on 22nd January 2016.The resource person was Dr. Krishna Erramili, Associate Dean, and Professor of Marketing at the Stuart School of Business, Chicago, USA. He said that there is great demand for commerce stream and explained about the importance of Business Models with illustrations. He mentioned about the dynamic leadership of Mr. Steve Jobs and how the Apple Company has become a market leader in introducing innovative products such as I-Pad, I-Phone, Tablet etc. He explained about rural marketing where 'Go rural' is the marketer's new slogan. Indian marketers as well as multina¬tionals, such as Godrej and Hindustan Lever etc have focused on rural markets. He also mentioned about "Chotukool", a tiny refrigerator launched by Godrej where Small shop keepers in rural areas who cannot afford regular fridges can be much benefitted. Dr. Krishna informed students about B-Schools in Chicago and also gave them tips to pursue studies in abroad.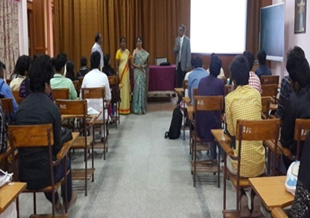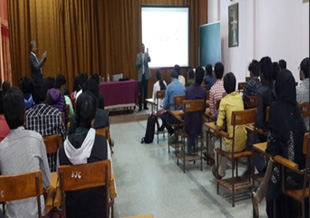 ---
International Guest Lecture by Dr. Krishna Erramili
Food N Fun ((Food Festival)
As part of Entrepreneurship Development Cell, Department of Business management organized food festival on 4th February 2016 at extended campus. The festival was titled as" Food N Fun" and was inaugurated by Mrs. A. Mary. Francina , Head, Department of Business Management at 11.30 am in extended campus along with ED-Cell Convener, Mrs. J.N.P.P. Anantha Lakshmi, coordinators and student volunteers.
There were 6 stalls creatively exhibited with different varieties of food. Students were asked to create innovative ideas to market and sell their products. The stalls performed exceedingly well and the participants were asked to make a report on the sales and income and expenditure account of the stalls. The festival offered an opportunity to the students to learn team work, leadership, planning with overall management skills. The students under the guidance of ED Cell Coordinators successfully planned and organized the food festival. Principal, Rev.Fr.Vincent Arokiadas, congratulated the coordinators for the success of the event.
Industrial Visit to Thrive Solar Energy Private Limited
Entrepreneurship Development Cell of the College organized an Industrial visit on 4 March 2016 to Thrive Solar Energy Private Limited, located at Cherlapally, Hyderabad.80 students of ED Cell accompanied by faculty members Mrs. Anantha Lakshmi and Mrs. Sangeetha Thakur visited the company. It is an independent Renewable Energy Solutions & Technology provider focusing primarily on the Solar Photovoltaic Applications and has built a significant track record in implementing Solar Projects world-wide. The company has been one of the pioneers in the world to take a hands on approach in reaching to the most deprived sections of the population with an innovative, reliable and affordable clean lighting solution.
Thrive Solar evolved from the technology innovations of the NGO- THRIVE founded in 2001 by Dr.Ranganayakulu Bodavala, a Harvard alumnus and public health management specialist. In the absence of a committed manufacturing partner for its innovative rural lighting efforts, THRIVE started its own solar technology division. In 2007, Thrive Energy Technologies Pvt. Ltd. (TET) was born, and later renamed as Thrive Solar Energy Pvt. Ltd. in 2013. Thrive Solar specializes in solid state lighting (LED based) products and solar based power systems that help provide clean lighting, reduce carbon emissions and assure higher levels of productivity in rural and urban vocations. It has developed a range of innovative lighting products that help not only communities living in small rural/forest households with no electricity supply but also large urban institutions that consume megawatts of electricity.
The visit was aimed to explore the solar energy technology, need, conservation and exposure to production of solar energy. The students had an opportunity to know about the process of production of solar energy and how the solar panels absorb the sun rays for generating electricity. They also learnt how to assemble semi-finished goods into products emitting light. The exciting thing about the visit was students were awarded with certificates and also solar lamps as a compliment.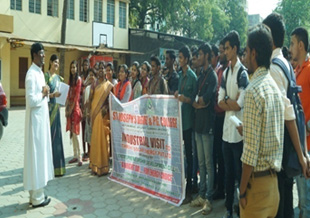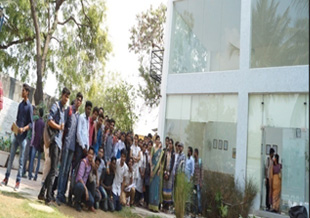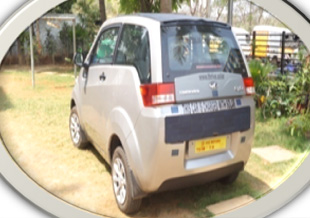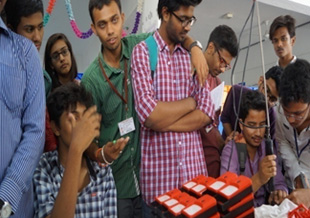 ---
Guest Lecture on Entrepreneurship and its Scope
Entrepreneurship Development Cell organized a guest lecture on 'Entrepreneurship Development' for the registered students on 9th March 2016.The resource person was Mr.Varun Pawar, India Associate-Strategy and Partnerships at Village Capital, U.S based company. The objectives of the Guest Lecture is to enable the students know the opportunities available in the field of Entrepreneurship in today's world, market trends and support provided by the government.
Mr.Varun Pawar spoke about the elements to achieve success in the field of entrepreneurship. He laid emphasis on acquiring equity from FFF- friends, fools, families, Angels- rich people, VC- Venture Capital and PE- Private Equity. He mentioned about various case studies on entrepreneurship and gave an instance of how Apple Company attained great heights from a small idea. He concluded by saying that not to consider any idea as small and one day that idea can bring success. He tried to instill passion among the students to initiate entrepreneurship.
---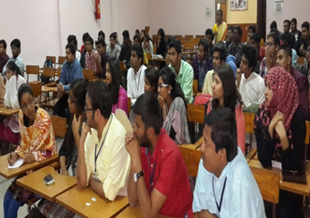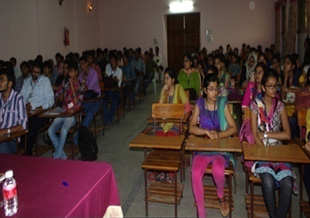 COMMERCE CLUB ACTIVITIES: 2014-15
Date
Name of the Event
Names of the Winners
Prize
29th January 2015
Debate Topic : 'Swachh Bharat Abhiyan'-Has the change been visible in any place?
Rohan Pillai- B.Com III H
I
Mario Leonard Joseph-B.Com III H
II
Ritesh Benedict – II A
III
30th January 2015
Just a Minute (JAM )
Mario Leonard Joseph - B.Com III H
I
Rohan Pillai- B.Com III H
II
Shaik Ahmed-B.Com I B
III
---
COMMERCE CLUB ACTIVITIES: 2013-14
S. No
Date
Name of the Event
Names of the Winners
Prize
1
17th August 2013
Make N Market
1. Rishab & Rohith - B.Com IH
I
2. Zameena & Sanober -B.Com IP
II
3. Rohan Pillai & Ajay Chary – B.Com II D
III
2
27th August 2013
Industrial Visit to Binju Saria Steel plant at Kottur, Shadnagar, Hyderabad
52 Commerce Club Members
  -
3
17th September 2013
Business Quiz
1. Asim Anwar & Aman Raj – B.Com IIIH
I
2. Sundar & Gurpreet B.Com III C
II
4
17th January 2014
Debate
Topic: Which sector needs more concentration and Development: Industry or Agriculture
1. Ritesh, Mahek & Akshay – B.Com IA
I
2. Jeetesh, Payal & Srikanth – B.Com IH
II
COMMERCE CLUB ACTIVITIES: 2012-13
Debate was conducted on the topic Nationalization of Banks on 30th June 2012
Group Discussion was conducted on the topics "Can China Overtake India", "Impact of Indian Economy on Global Economy" and "Can India survive Global Competition" on 30th July 2012. Three teams of six to ten members participated in the discussion. The students made the discussion lively with their opinions
Business Quiz was conducted on 4th August 2012 which consisted of 3 rounds, written test, Oral questions and rapid fire rounds.
Make N Market was conducted on 16th October 2012 in which 8 teams have participated. They made innovative items such as Solar Microwave, Capsule for Nutrition and increasing Height, Kindle e- book, Shampoo, Conditioner, Pen holder, Paper bag, Balancing Machine.
---
ET CLUB ACTIVITIES: 2012-13
Department of Commerce launched its first ET Club "NEWS 7" on 19th July 2012 which was initiated by Mrs. Suguna Sheela, Assistant Professor, Department of Commerce. Mr.Saad of B.Com II H gave a presentation on Web News.
ET Club members Mr.Saad of B.Com II H & Miss. Susanna of B.Com IIP gave power point presentation on the previous week's news on 30th July 2012.
COMMERCE CLUB ACTIVITIES : 2011-12
Group Discussion was conducted on 20th September 2011.
Business Quiz was conducted on 19th January 2012 in which Satveer Singh, Naveen Bhansali & R.Harish of B.Com II year General, B section won I prize and Mohit Gill and Mrinal of B.Com I year General, A section won II prize.
---
ET CLUB ACTIVITIES 2011-12
46 members have enrolled in the club including staff and students .The club conducted online events such as Case study and Share Baazi during the academic year 2011-12