National Service Scheme (NSS)
Vision
To Awaken The Social Consciousness For Community Service With The Motto: NOT ME BUT YOU.
Mission
To develop a sense of social and civic responsibility
To inculcate the spirit of selflessness among the students
To identify the needs & problems of the community and extend a helping hand
To establish a meaningful linkage between Campus and Community, College and Village & Knowledge and Action.
"Going beyond books. Reaching out to the Society".
It has been formed to bring about awareness about the society and thereby to serve the society in the form of mobilizing funds and services required for destitute, slum dwellers and the other needy people of society.
The NSS Unit has been allotted to the entire college i.e. both Degree and P.G.The letter of appointing Program Officer was received on 1/03/08. The NSS Unit to our college has been given at the end of the academic year 2007-08. Hence, the Inauguration of    the NSS unit was conducted on 26th June'08.235 students have been registered as the NSS Volunteers.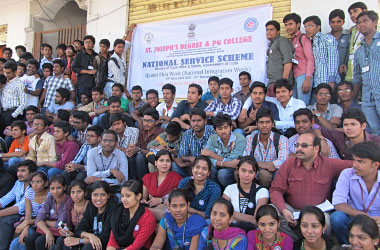 NSS OUTREACH PROGRAMMES & SOCIAL COMMITMENT
---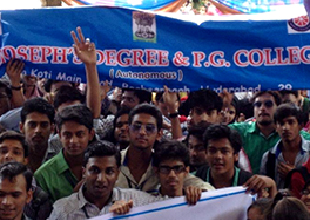 AIDS Day Rally
December 1st of every year the entire world observes "World Aids Day". The NSS Unit of our college participated in the rally taken up by the NSS Unit of Osmania...
Read More...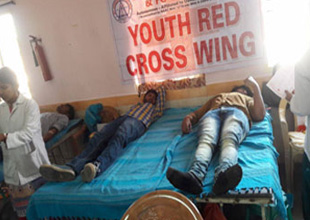 Blood Donation Camp
Every year NSS is conduction blood donation camp in association with lion club members of St.joseph's Degree and P G College. NSS volunteers always give their ...
Read More...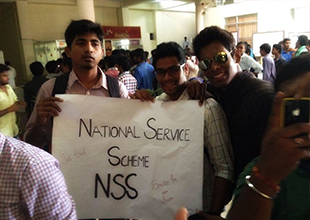 NSS Day Celebration
The 46th NSS DAY CELEBRATIONS held at Indira Priyadarshini Hall, Public Gardens, Nampally, Hyderabad on 24th September, 2014 at program started at...
Read More...