Student Activities ~ Commerce Club
---
In order to meet the challenging needs of corporate world environment, it is not just sufficient for a student of commerce to be sound theoretically but must also be exposed to the outer world in a dynamic way to face practical situation. Commerce club was started on 18th November 2006 to enrich and empower the students with academic and technical excellence.
Objectives
To expose students to meet the practical challenges in the current business scenario.
To let the students interact with business experts of industry.
To encourage students to become event managers.
To build self confidence and proactive approach.
Activities of the Club
Business Quiz
Group Discussion
Power point presentations

Guest Lectures
Industrial Visit
Debate
JAM
Competitions to improve not only communication skills but also personality and attitude of students.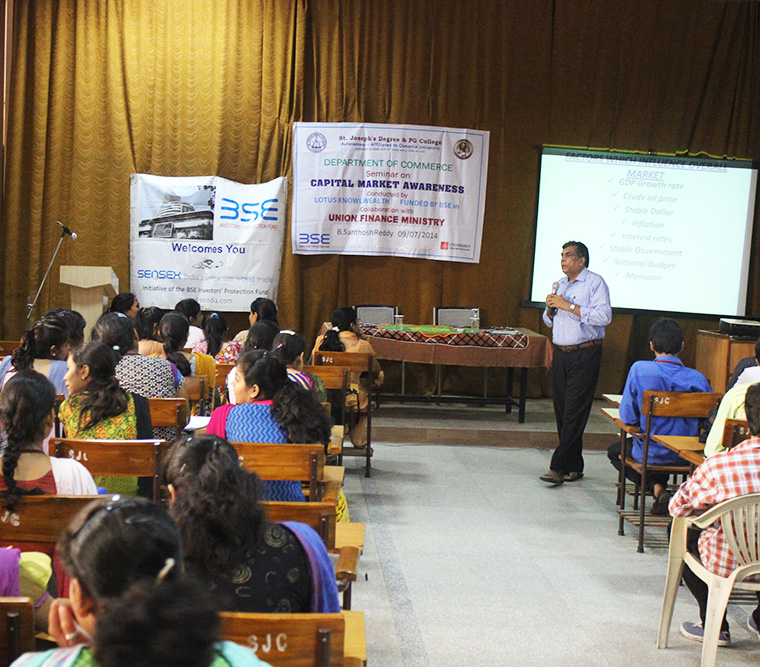 ---
COMMERCE CLUB ACTIVITIES: 2018-19 
S.No

Date
Program Title
Program Details
 Names of the Winners
Class

Prize

1
3rd July 2018
Essay Writing Competition organized by Customs Commissionerate, Hyderabad

Essay writing on the topics:

(i).Evolution of Indirect Taxes in India

(ii).GST- A Boon to the economy

(iii).One Tax, One Nation, One Market

Rajvir Singh Oberai
B.Com III(IF&A)
I
Manas Vyas
B.Com IIIH
II
Rithik Sanghi
B.Com II (IT)
III
Angela Mendoza
B.Com I(IF&A)
Consolation
Ankita Saxena
B.Com IIIH
Consolation
Girija Agarwal
B.Com IH
Consolation
2
31st July  2018
Business Quiz
Mayank Agarwal
B.Com IIIH
I
Mayank Bothra
Sirshendu Dutta
Abdullah Khan

B.Com II (IF&A)

II

Saad Mohammad
Apoorv Chitgopekar
Musaddaq Mishbalil Haq

B.Com I (IF&A)

III
Adnan Mir Taher Ali
M.Vaishnavi
---

3

18th Sept  2018
Paper Presentation on "Recent Trends in Commerce"
Sarang Saxena

Topic: Slice Pay: Future of Credit for Students

B.Com IIIH

I
Rahul Ageeru

Topic: Backtesting of equity value stocks from BSE-200

B.Com IIIH

II
Khushbu Sanghi

Topic: Marketing Innovations in Rural India

B.Com I(IF&A)
II
Kavita Goyal

Topic: Recent Trends in HRM

B.Com IH
III
Nidhi Taunk

Topic: Paytm Vs Paypal – A legal battle  for owning Trademark

B.Com IIIH
Consolation
4
19th Sept 2018
Debate

Topic: GST

Mayank Bothra
B.Com IIIH
I
Sahil Lalani
B.Com I(IT)
II
COMMERCE CLUB ACTIVITIES: 2017-18 
S.No
Date
Program Title
Program Details
 
 
 
    Names of the Winners
Class
Prize
1
27th July 2017
JAM (Just a Minute)
Ali Charaniya
B.Com IH
I
Ruman Ahmed
B.Com IC
II
Rahul Shankar
B.Com IIIH
III
2
29th August 2017
Business Quiz
Abdullah Khan

B.Com I (IF&A)

I

Saad Mohammad
Apoor Chitgopekar
Akshay Subodh
B.Com IIP
II
3
27th Feb 2018
Elocution

( Topic: Impact of cashless economy on common man")

Simran Prakash
B.Com IP
I
COMMERCE CLUB ACTIVITIES: 2016-17 
S.No
Date

Program Title

Program Details

    Names of the Winners
Class

Prize

1
28th July 2016
Business Quiz
Monish Kalyani
B.Com IIIC

I

Shaik Ahmed
B.Com IIIB
Vaibhav Tolwala
B.Com IIIP

II

Uday
B.Com IIIP
2
17th August 2016
JAM
Sarang Saxena
 B.Com IH
I
Murtuza
B.Com II(IT)
II
Mohd.Omer
B.Com IIIH
III
3
19th August 2016
Visit to SEBI
—-
Commerce Club Members
—
4
2nd December 2016
Essay writing competition on the topic "Inflation- The most iniquitous tax".
Lakshmi Shailaja
B.Com IP

I

Jatin Guru
B.Com IP
Md.Abdul Bari
B.Com IP
Aditya Shekar
B.Com IIH

II

N.Shashank
B.Com IIH
Ankit Sharma
B.Com IIH
COMMERCE CLUB ACTIVITIES: 2015-16 
S.No

Date
Program Title
Program Details
   Names of the Winners
Class

Prize

1

31st July 2015
Business Quiz

Rishab Jain
B.Com II P

I

Vaibhav Tolwala
B.Com II P
Kushal Mahajan
B.Com II D
Ritesh Benedict
B.Com III A

II

Vishal Patel
B.Com III A
Vangala Neelkanth
B.Com III C
Sharukh Surani
BA (MCJ) III

III

Saurabh Bohra
BA (MCJ) III
2
19th August 2015
JAM
Zaki Uddin
B.Com II H
I
Ritesh Benedict
B.Com III A

II
COMMERCE CLUB ACTIVITIES: 2014-15 
S.No

Date
Program Title
Program Details
Names of the Winners
Class

Prize

1
29th January 2015
Debate on the topic 'Swachh Bharat Abhiyan'-Has the change been visible in any place?
Rohan Pillai
B.Com III H
I
Mario Leonard Joseph
B.Com III H
II
Ritesh Benedict
B.Com II A
III
2
30th January 2015
JAM
Mario Leonard Joseph
B.Com III H
I
Rohan Pillai
B.Com III H
II
Shaik Ahmed
B.Com I B
III