Student Activities ~ Mathematics Club
Activities 2016-17
Power Point Presentation Competition
The Department of Mathematics & Statistics celebrated the National Statistics Day on 29th June 2016..The Third Year students of MSCS presented about various Statisticians in the field of Statistics using Prasanta Chandra Mahalanobis,, their biography and their contributions power point presentations.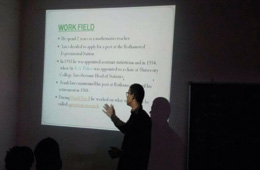 ---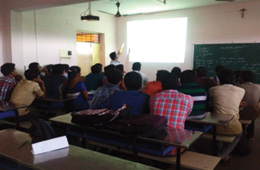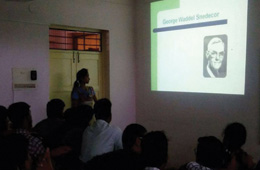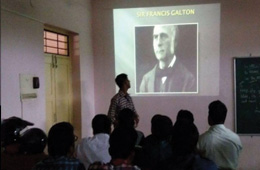 Poster presentation:
The Students of second year of MSCS participated actively in poster presentation on Statisticians-their Biography, Contributions, and Achievements like Prof. R.A Fisher on the eve of National Statistics Day.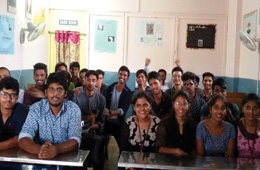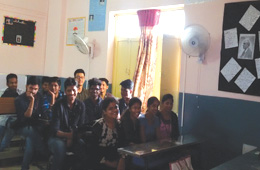 Essay Writing Competition
As a part of Math Club Activity the Department conducted an Essay writing Competition on "MATHOPHOBIA BORN OR MADE" on 24th August 2016 . Nearly 60 students from various streams participated in the competition.
---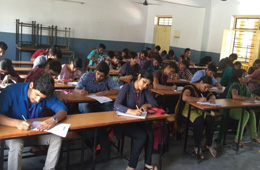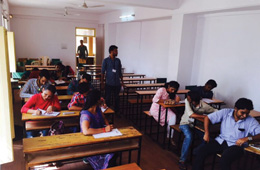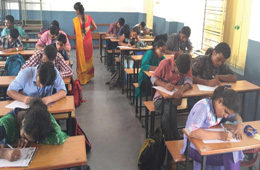 ---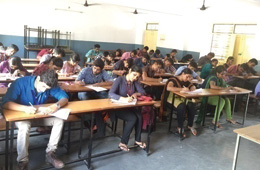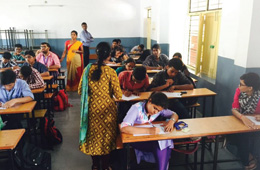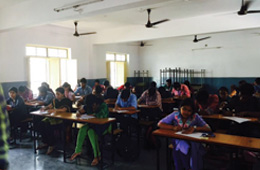 REPORT ON IQ Test
The Department of Mathematics and Statistics conducted a Quiz competition "IQ TEST" on 1st October 2015. The Event garnered a massive response and 102 students in 34 teams from various streams participated in this event. The Quiz competition was conducted in two rounds. A written test was conducted for 30 minutes consisting of 25 questions in the first round. 6 teams were selected out of 34 teams for the second round. The second final   round was conducted to all the six final teams through seven rounds.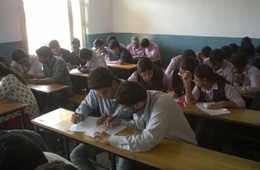 General round consisting of one question to each team.
Logic round consisting of three questions to each team.
A Collage of nine pictures was given to each team
Read out the colour round consisting of two questions to each team
Guess Me round consisting of two questions to each team
Just a minute round with one question to each team
Rapid Round consisting of three questions to each team
All the questions of the written as well as final round were a measure of analytical reasoning ability which tested several factors of intelligence, namely logical reasoning, creativity, keen observation, lateral thinking and general knowledge and also ability to classify things according to various attributes.
The Prize Distribution   Ceremony took place immediately after the quiz program. Principal Rev. Fr. Vincent Arokiadas congratulated the winners and distributed the prizes for the winners.
A Cash prize of Rs.1000 and a memento to each student was given to the
Winners - GRATUS, NILESH, AKASH

A cash prize of Rs. 600 and a memento to each participant was given to the
1st Runners- PRATHYUSHA, SRAVANI, VAISHNAVI

A cash prize of Rs.400 and a memento to each participant was given to the
2nd Runners – PRABHU KUMAR, YASH RAJ, MONISH
---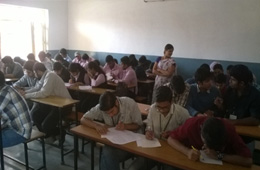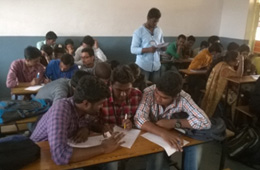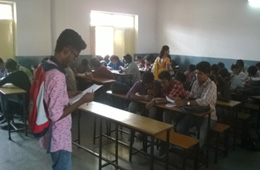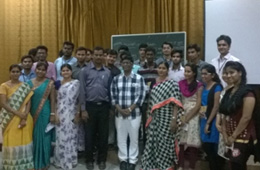 ---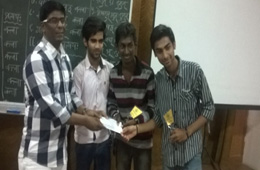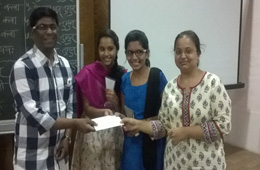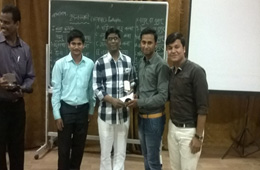 Math 4 All
Intelligence is "The ability to learn or understand or to deal with new or trying situations". An Intelligence Quotient indicates a person's mental abilities relative to others of approximately the same age. Mathematical intelligence generally represents your ability to reason and to calculate basic arithmetic computations.
Mathematical intelligence is a strong indicator of general intelligence because many every day mental tasks require arithmetical operations even though numbers may not be involved. We all require some numerical skills in our lives, whether it is to calculate our weekly shopping bill or to budget how to use our monthly income. Flexibility of thought and lateral thinking processes are a few skills which are needed in order to solve these problems.
The Math Club of the Department of Mathematics & Statistics features a comprehensive set of interactive arithmetic, logic & brain twisting Problems. These puzzles involve some novel way of thinking or looking at the problem from an unexpected viewpoint. Students who take various standardized tests such as SAT, GRE, GMAT, CAT and other MBA and MCA tests in which Math is one important skill tested will find these very helpful.
The Department would share every week a few brain twisters which involve a combination of skills and traits, a few of which are creativity, perceptiveness, and the ability to identify and apply new approaches. If you feel you have a memorable math-related experience, then you may share it here. Solve the Puzzles and your solutions can be handed over in the Department of Mathematics & Statistics. Your solutions should reach the Department within a week along with suitable explanations. Those who answer all the questions correctly would be rewarded suitably.
For any queries you can contact:
Mr. D. Srinivas Reddy
Mrs. G. Sunitha
Mrs. B. Kalavathi
Maths for All -Test for July 2013  (Click here to view the test)
Maths for All - Test for Aug 2013 & Answers for July 2013 Test (Click here to view the test)
The club conducts the following events
Paper presentations
Quiz
Brain Teasers
Web Harvest
Hodge Podge
---
| S. No. | Date | Topic & Description | Organization / Resource Person |
| --- | --- | --- | --- |
| 1 | 24-07-13 | A  Seminar on "Android" | Mr. Avinash, Student, B.Com-ID |
| 2 | 17-07-13 | Ethical Hacking | Sagar Gupta - Student, B.Com II Year |
| 3 | 27-09-12 | Web 3.0 | Mr. M. Joseph Rajakumar - Faculty, Dept. of Computer Science |
| 4 | 18-09-12 | Windows XP Installation | Mr. Lokaiah & Mr. Pavan - System Administrators |
| 5 | 12-09-12 | Mobile Technologies | Mr. V. Kiran - Verudix & Taxilla Training |
| 4 | 03-09-12 | Ethical Hacking | Sagar Gupta &  Shammi Pacholi - Student representatives of B.Com I Year |