Convocation
3rd Convocation Ceremony of St. Joseph's Degree and PG College, King Koti
The third Convocation ceremony of St.Joseph's Degree and Pg college was celebrated with pomp and glory at Bharatiya Vidya Bhavan Auditorium on 22 October 2016.The ceremonious inaugural raised the curtain on the grand academic Convocation March which saw participation from the chief guest of the day,Honourable Vice chancellor,Prof.S.Ramachandran;Guests of Honor, Controller of Examinations ,OU ,Prof. V.Appa Rao ; Dean ,Faculty of Management,OU, Prof.R.Nageshwar Rao ; Principal of the college,Rev.Fr.Vincent Arokia Das, the Director,Prof,P.L.Visweswar Rao, CoEs of UG and PG Mr.Satyanarayan Rao and Mrs.Kiran Jyothi, along with the faculty and the student representatives of the various departments and disciplines who proudly marched the academic procession across Bhartiya Vidyabhavan, to the thunderous applause of the young graduates of 2015 batch as they cheered them with a sense of appreciation and achievement on their convocation day.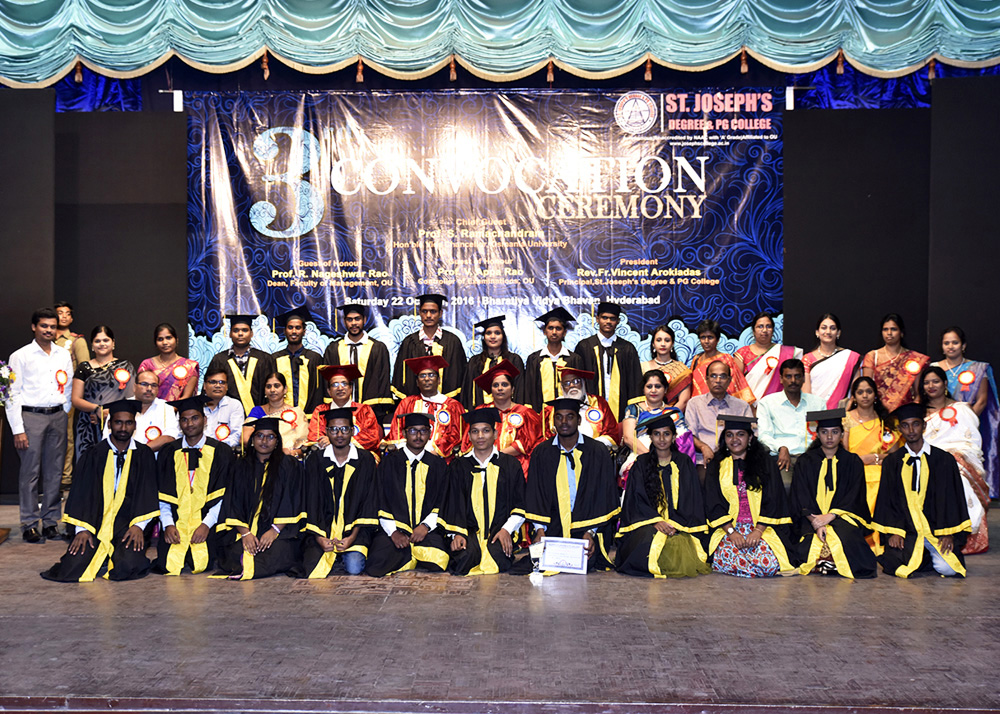 ---
The Lighting of the lamp by the dignitaries marked an auspicious beginning,followed by the Bible reading by Rev.Fr.Arogyam ,along with a Prayer song by the college Choir Anna Domini which invoked the divine blessings of the Almighty upon the young graduates.This was followed by an endearing welcome address rendered by the Principal who thanked all the stakeholders,including parents and students for their unstinted support and coordination in making St.Josephs a world class institution .He observed that this Graduation ceremony was special as it was the first convocation for PG courses under Autonomy and he also highlighted the giant strides the institution was making in forging ahead with international collaborative academic programs for promoting Global competencies among students.
The Convocation address given by the Honourable Vice Chancellor carried a valuable message for the young graduates as it reinforced the critical significance of having "right attitude,knowledge and skills along with social responsibility , respect for the elders and concern for the environment " which paved the way for successful careers,homes and a prosperous nation .This was followed by the motivational speeches given by Prof.Appa Rao and Prof.Nageshwar Rao who insisted on dreaming big and aiming at holistic development for a life of sustained happiness and prosperity."
---
As the Vice Chancellor declared the Convocation Ceremony open,the proud recipients of the gold medals along with the toppers of the different streams made a grand prelude to the convocation ceremony ,followed by other students who walked up magnificently in their convocation robes for the conferment of their degrees.
The Convocation ceremony which was celebrated with élan came to a close with a formal Vote of thanks proposed by Mr.Satyanarayana, CoE, expressing gratitude to all the dignitaries,stakeholders ,management , teaching and non teaching staff for the success of the event.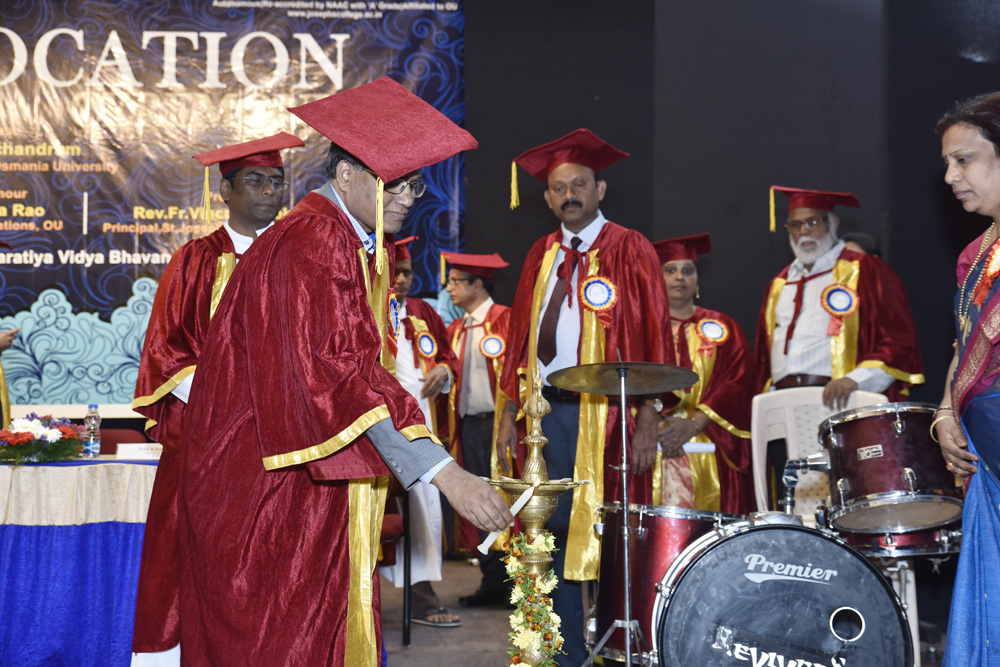 ---