Student Activities ~ Science Club
Word Search
| Date | : | 19th July 2016 |
| --- | --- | --- |
| Name of Activity | : | Word Search |
| Target Group | :  | II IB.Sc (MECs/MPCs) |
purpose: Science Club strives to enrich scientific knowledge and curiosity through an adventurous and challenging curriculum that develops students of character, responsibility, and consciousness ready for challenges in the 21st century.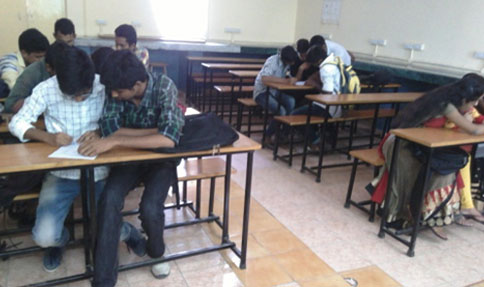 Highlights
Enlightened about objectives of Science Club
Activities of Science Club.
Introduced and given ideas about 2016-17 innovative activity that is short film or slider player about E –Waste.
Played Word Search Game in Physics
Programme: Science Club Activity
| | | |
| --- | --- | --- |
| Date | : | August 2016 |
| Name of Activity | : | Awareness programme on E Wastage management |
| Venue |  : | Electronics Lab |
purpose: Science Club strives to enrich scientific knowledge and curiosity through an adventurous and challenging curriculum that develops students of character, responsibility, and consciousness ready for challenges in the 21st century.
Details:
Presentation and interaction regarding e -waste by HoD for students of 3 year and 1st year.
Students prepared and presented about e waste by using videos and power point presentations.
Happy 137th Birthday Albert Einstein-Department Celebration
Pi Day Celebrations
Date
:
16/3/16
Name of Activity
:
Class Room Presentation on" Life of Einstein & His Contributions to Society"
Students Names
:

1. Mr P .Ravi Raja    ---III/VI SEM B.Sc (MPCs)
2. Allen Tider            ---III/VI SEM B.Sc (MPCs)

Target Group
 
III Phy & Elec students.
About Event
Department and students kicked off the March 14th Pi Day event, which commemorate Albert Einstein's birthday through activities.
---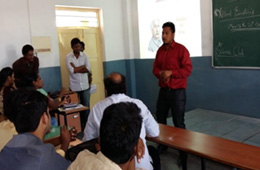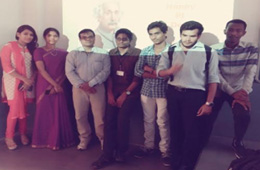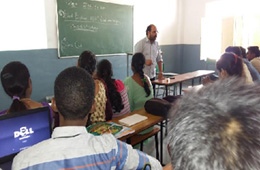 Club Events
An Aptitude test for 3rd B.Sc students was conducted on 29th June to know their Aptitude levels so that the Department could plan a few classes on aptitude for these students to face various competitive exams, entrance exams and placement opportunities provided to them in a successful way.
Pre-placement Talk was organized on 1st July 2015 for B.Sc Final Year students to encourage the science students to get an idea about interviews and to get placed in reputed organizations.  49 registered students attended it. Students were advised to focus on English Vocabulary, Aptitude and Numerical Ability, Personality Development and Basics in Computers.
The Department resumed its Math Club activity  Math 4 ALL which features a comprehensive set of interactive arithmetic, logic & brain twisting Problems which involve some novel way of thinking or looking at the problem from an unexpected viewpoint. Students who take various standardized tests such as SAT, GRE, GMAT, CAT and other MBA and MCA tests in which Math is one important skill tested will find these very helpful.
REPORT ON IQ Test
The Department of Mathematics and Statistics conducted a Quiz competition "IQ TEST" on 1st October 2015. The Event garnered a massive response and 102 students in 34 teams from various streams participated in this event. The Quiz competition was conducted in two rounds. A written test was conducted for 30 minutes consisting of 25 questions in the first round. 6 teams were selected out of 34 teams for the second round. The second final round was conducted to all the six final teams through seven rounds.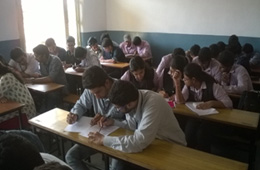 General round consisting of one question to each team.
Logic round consisting of three questions to each team.
A Collage of nine pictures was given to each team
Read out the colour round consisting of two questions to each team
Guess Me round consisting of two questions to each team
Just a minute round with one question to each team
Rapid Round consisting of three questions to each team
All the questions of the written as well as final round were a measure of analytical reasoning ability which tested several factors of intelligence, namely logical reasoning, creativity, keen observation, lateral thinking and general knowledge and also ability to classify things according to various attributes.
The Prize Distribution Ceremony took place immediately after the quiz program. Principal Rev. Fr. Vincent Arokiadas congratulated the winners and distributed the prizes for the winners.
A Cash prize of Rs.1000 and a memento to each student was given to the Winners - GRATUS, NILESH, AKASH
A cash prize of Rs.600 and a memento to each participant was given to the 1st Runners- PRATHYUSHA, SRAVANI, VAISHNAVI
A cash prize of Rs.400 and a memento to each participant was given to the 2nd Runners – PRABHU KUMAR, YASH RAJ, MONISH
---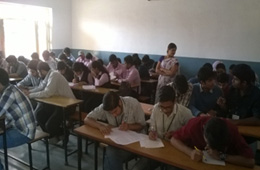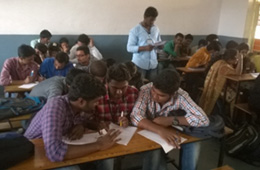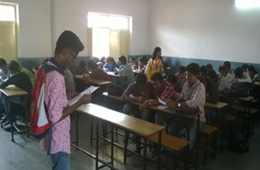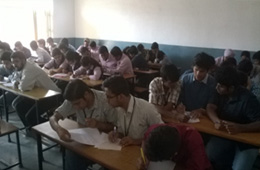 ---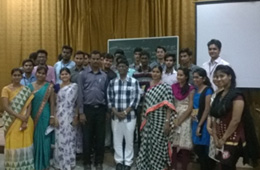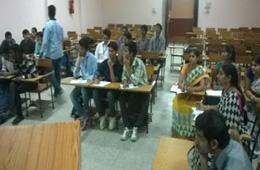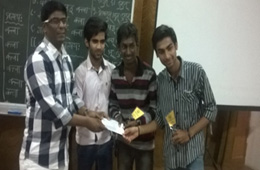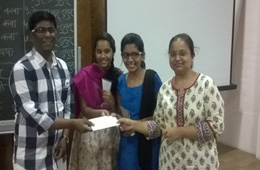 Bridge Courses
A bridge course test for all the B.Sc First   year students was conducted on 16th august 2015 for 105 students. The Department has conducted a bridge course for the students who secured less than 35% of marks, to help the students in better understanding the syllabi in the present curriculum on the following topics.
Differentiation, differential equations, and integration, basic concepts of two and three dimensional geometry
Basic concepts of statistics
BINGOS - Play & Learn about technology
Date: 16th August 2012
To foster scientific curiosity in a range of domains and initiate the students to engineering practices and scientific methodology and to develop a strong interest for science and technology, BINGO activity has been organized  in science club on Telecom Network Operators.
PHYSICS - SCRAMBLED WORDS
Date: 30th September 2013
In order to meet the challenging needs of corporate environment, it is not just sufficient for a student of commerce to be sound theoretically but must also be exposed to the outer world in a dynamic way to face practical situation. Commerce club was started on November 2006 to enrich and empower the students with Academic and Technical excellence.
Nature of the Activity : Science Club -Student Centric Programme
Incharge/Coordinator :  Mr.Sravan Kumar
Venue : Physics Lab
Title : Physics - Scrambled Words
Target Group : III B.Sc(MPCs)-Sem 5 
No. of Participants : 16
Objective : To acquaint and update knowledge of students with new words in the Subject.
About the Activity : This event was organized during class hours and evaluated the same after conducting the competition.
JEOPARDY – Interactive quiz show
Date: 5th October 2012
Topics selected for this quiz show were science & technology, Computers,Internet,General topics. Mr. M.L.N. Rao from dept. of science, deveoped a small application to make this activity much more technology-freindly in which students enthusiastically participated in the quiz show.
---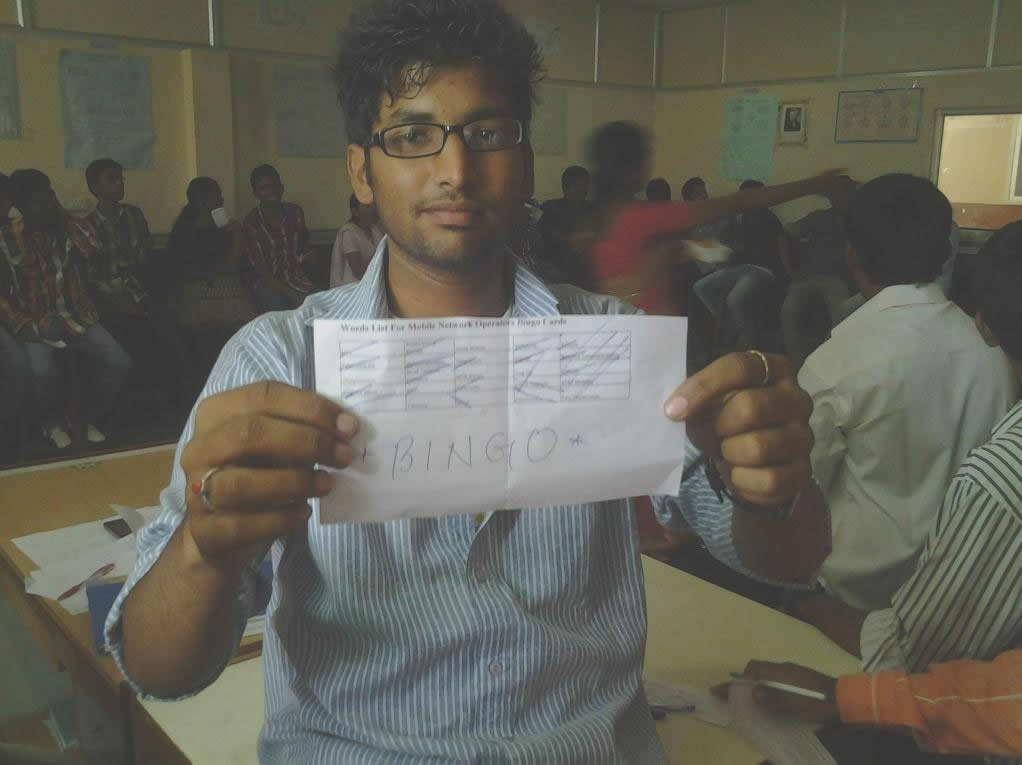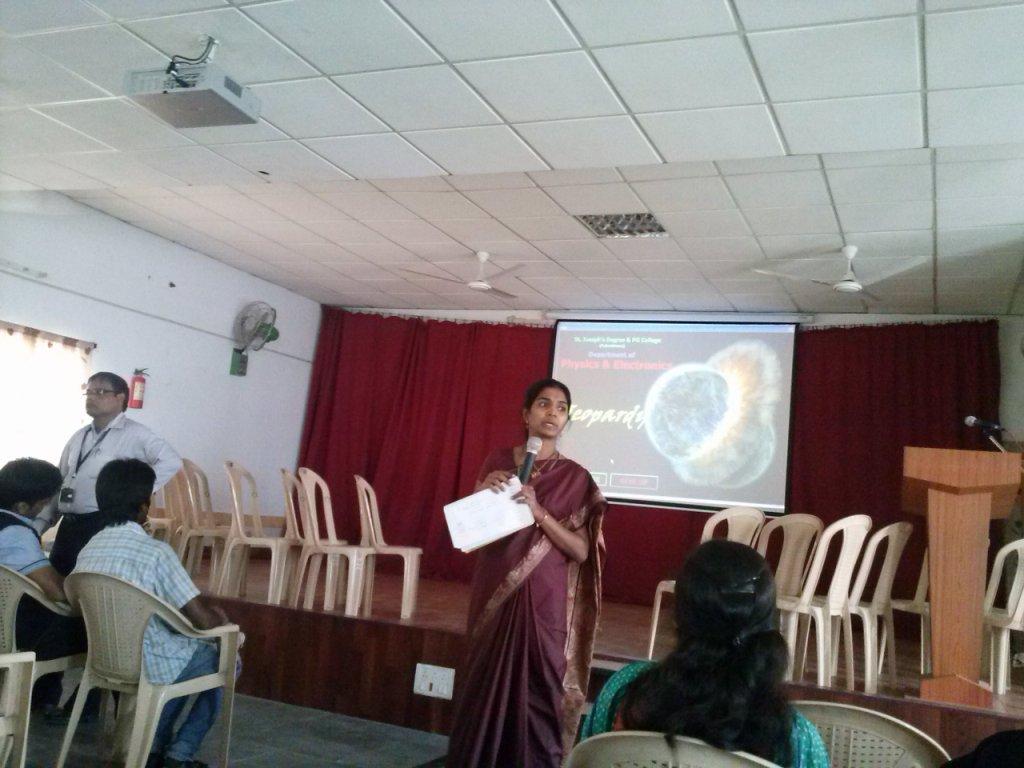 ---
CROSSWORD PUZZLES - COMPUTER BASICS 
Date : 30th August 2011
The Science club adopted a novel way of exploring Computer Basics through a maze of crossword puzzle.
TAMBOLA PLAY WITH PERIODIC TABLE
Date : 20th July 2010
Department of Physics & Electronics conducted "TAMBOLA - Play with Periodic Table" as a part of our monthly activity of the club. This game was conducted for all the three years science students by II B.Sc Students Vinay Sai Krishna and his four members team. The prime objective in arranging this program was to augment students' interest in the subject along with fun.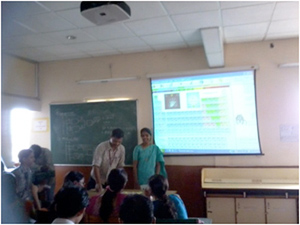 ---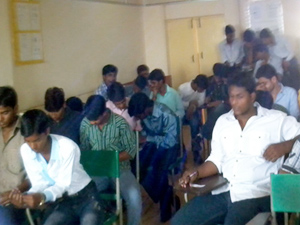 GROUP DISCUSSION 
Date : 1st October 2010
As a part of Science Club activities the Department of Physics & Electronics always encourages and provides opportunity for students to arrange and to conduct various events. Most of these events are students need based and are arranged with the guidance of other Departments if needed.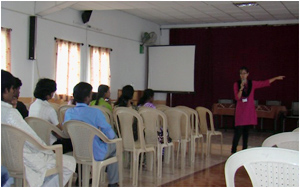 ---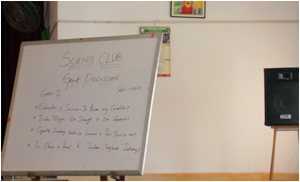 ---
Students receiving tips from the judge at the time of Group Discussion
"Recapitulated 40th Anniversary of the Apollo 11 Mission Landing on the moon"
Date : 1st August 2009
Department conducted events like poster /Models Presentation and power point presentations . Students of I B.Sc & II B.Sc(MPCs) exhibited posters on Milky Way, Universe, Black holes, Apollo 11 Mission etc., and also students presented PPTs on similar topics. Dr. Malla Reddy ,Director of PG Studies And Prof. Moses were the Guests on this occasion.
---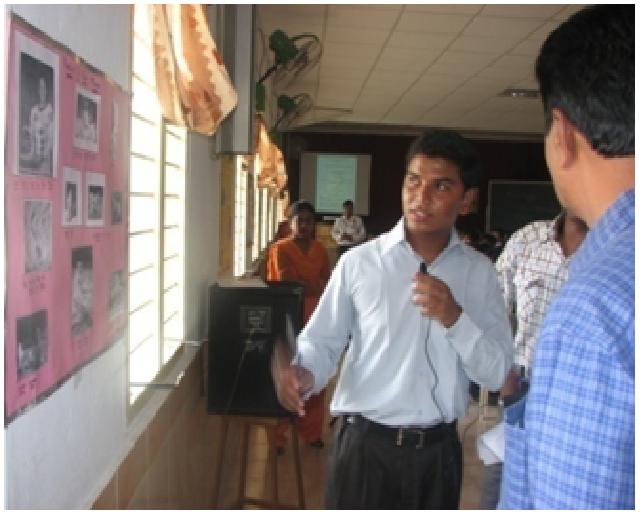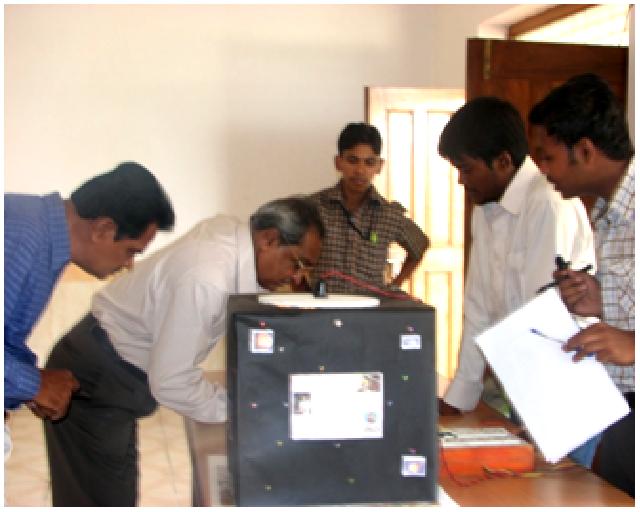 ---
Prof. Malla Reddy and Prof. Moses inspecting the model.
Science Club Activities
| S.No | Activity | Date | Target Group |
| --- | --- | --- | --- |
| 1 | Students Seminar on Current Trends in Technology | 20.01.2017 | All B.Sc Physics & Electronics students |
| 2 | Word Search | 19-07- 2016 | IB.Sc (MECs/MPCs) Students |
| 3 | Awareness programme on E Wastage management | 20-08-2016 | B. Sc (MECs/MPCs) I, II & III year Students |
| 4 | Circuit & Execute | 17-12-2016 | Open for all   |
| 5 | PPT presentation on "Economy Vs Technology" | 17-12-2016 | Open for All |
| 6 | Pencil Art | 17-12-2016 | Open for all   |
| 7 | Poster making, | 28-02-2016 | B. Sc (MPCs & MECs) Students |
| 8 | computerized Quiz program | 28-02-2016 | B. Sc (MPCs & MECs) Students |
| 9 | Power point presentations on Noble laureates of India in science and literature. | 29-02-2016 | B. Sc (MPCs & MECs) Students |
| 10 | Albert Einstein's 137th Birthday - Pi Day Celebrations | 16/3/16 | B. Sc(MPCs & MECs) III Year Students |
| 11 | Physics - Scrambled Words | 30-09-2013 | B. Sc(MPCs) III year students |
| 12 | Jeopardy – Interactive quiz show | 5-10-12 | B.Sc(I/II/III)-Phy &Ele students |