Bachelor of Business Administration (BBA)
---
Objectives Of The Programme
The course aims and helps students to understand different business environments in which various organizations operate. It helps students to develop decision making ability in real time business situations. It also focuses on developing operational and analytical skills in students to tackle business problems in different sectors. The students are required to choose a specialization of their interest in the last year of the program, which further facilitates them to develop their management skills in a particular sector. The case studies discussed in classes exposes students to real time business situations and challenges faced by the business leaders.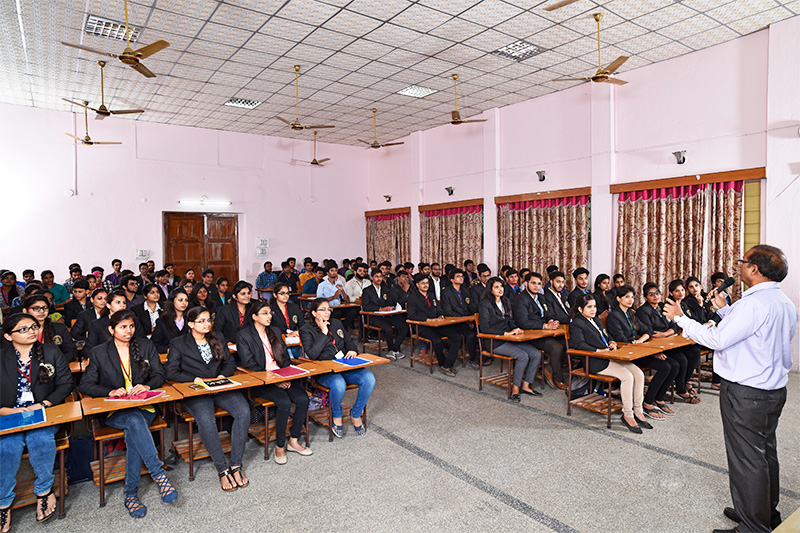 ---
The successful completion of the course leads the management graduates to get basic knowledge of various fields such as general managerial principles, processes and concepts.. A wide range of opportunities open in front of the students once the course is completed.
Bachelors Of Business Administration (BBA)
The Department of Business Management started in the year 2001. Three year Full time course in Bachelor of Business Administration (BBA) started under Autonomy affiliated to Osmania University from Academic year 2011 – 2012 with the student strength of 50, in the academic year 2015-16 student strength of BBA was 120 ,the present strength in the academic year 2016-17 for the BBA Programme is also 120 with 2 sections running. BBA started with the sole objective of developing and enhancing the employ-ability and managerial skills of the students which assists them in getting good placements and also develops entrepreneurial skills in the students.
LEARNING  OUTCOMES   OF BBA CURRICULUM
Goal 1:  Critical Thinking and Decision Making and Employability skills – Students are able to:
Learning Objective 1a:  Use analytical and reflective thinking techniques to identify and analyze problems, develop viable alternatives, and make effective decisions.
Learning Objective 1b:  Apply appropriate quantitative and qualitative techniques in solving business problems.
Goal 2:  Communication Skills – Students are able to:
Learning Objective 2a:  Write effective business documents.
Learning Objective 2b:  Prepare and deliver effective oral business presentations using a variety of appropriate technologies.
Goal 3:  Ethical Behavior and Social Responsibility – Students are able to:
Learning Objective 3a:  Identify and analyze ethical conflicts and social responsibility issues involving different stakeholders.
Learning Objective 3b:  Develop viable alternatives and make effective decisions relating to business ethics and social responsibility.
Goal 4:  Core Business Knowledge – Students are able to:
Learning Objective 4a:  Demonstrate competency in the underlying concepts, theory and tools taught in the core undergraduate curriculum.
Goal 5:  Global Perspective – Students are able to:
Learning Objective 5a:  Identify and analyze relevant global factors that influence decision-making.
Learning Objective 5b:  Develop viable alternatives and make effective decisions in an international business setting.
Eligibility Criteria For BBA
Candidates should have passed CBSE/ICSE/10+2/Intermediate or equivalent Examination with CEC/MEC/MPC/BiPC with 65% and above in the optional subjects. Students of Vocational Courses with Commerce/Computers subject are also eligible. Admission is based on merit list. Applicants have to attend counseling along with personal interview round for getting admitted into the course.
---